mushy wrote:
Jim!!! You look younger in that pic than you do in the one with the beard! You are always talking about how old you are, but I'll bet I'm older than you. Hahaha! Your eyes in this picture are gorgeous! Beautiful family!!! Your wife is so pretty, such a beautiful smile! She looks so nice! And your son is adorable!!!! How old is he in the pic?
(BTW, thank you for the compliment
)
Mushy You are too kind! ...but, of course, I will gladly take the compliments!
I will just say that I am going to be 45 in 10 days (So I was 41 in that pic).....So I think I am the older one of us by quite a few years!....but you don't need to give your age since I know that can be a sensitive subject for some ladies!....And if you are anywhere near my age then you certainly look terrific for your age then!!!
My wife is going to be 40 in 7 days so I have been giving her a little bit of a hard time about the big four 0! lol! ...She is a good sport about it though...And I appreciate the kind words about her too! She is really great! I am so very lucky to have her as a wife! We were a couple of hippies when we met more or less (She was 19 and I was 24)....She was actually a vegetarian when we first started dating way back when....And I have corrupted her since! lol! In that pic of me and my wife where I had the beard, I also had a very long ponytail that you can't see in the pic that went almost all the way down to my hind quarters lol!.....We use to wear a lot of tie dyes and listen to psychedelic music back then too (Still listen to the music now in fact!)....Our favorite band back then was the Grateful Dead and I actually played in a Grateful Dead cover band of a sorts at one point.....but we never played in front of a large crowd of people... it was just for fun mostly.
My son is now 10 and so he was 6 years old in the pic. He is such a great kid too!....I am very blessed to have such a great family I must say! He had some really difficult times though...especially in his first couple of years....And he has some significant developmental delays as a result....but he is the greatest kid in the world to us and I wouldn't change a thing about him!....I want to post a couple of more pics of him as a baby since he was such a cute baby! (if thats o.k. with everyone else)...I have so many great baby pics of him to choose from too its hard to narrow it down to just a couple ,...but these are definitely two of my favs! (I promise I won't post anymore though....You know how it is though with baby pics!
)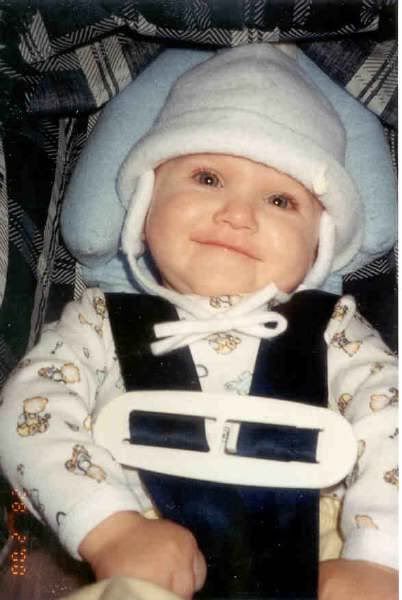 _________________


"Adam the reason you are shaking up this competition so much is because you dare to dance in the path of greatness....Fortune rewards the brave and you are one of the bravest contestants I've ever witnessed on American Idol!".....

Paula Abdul from Season 8 on Movies Theme Night